Ahlman Performance's, sister company, Ahlman Engineering, provides engineering, chassis design & development, software development to testing and trackside support. Their experience includes both manufacturers and teams in IndyCar and NASCAR like Honda Performance Development, Andretti Autosport, Schmidt Peterson Motorsports, Rahal Letterman Lanigan Racing, Ford Performance, Roush Fenway Racing, and Richard Petty Motorsports.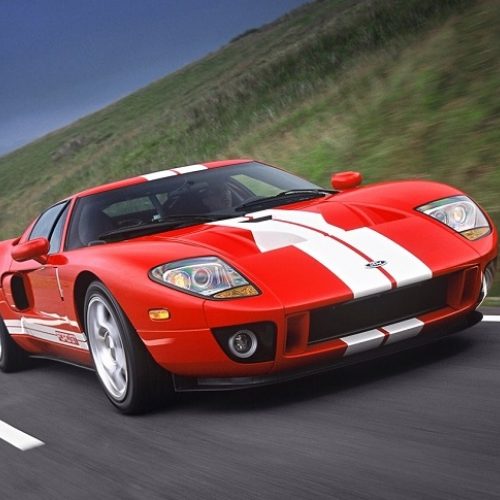 System Architecture
System Architecture is the Form and the Function defined through a Concept including interfaces and contexts of application. To better understand the level of detail typically associated with system architecture definition as well as more tangible examples please visit our Ahlman Engineering.

Learn More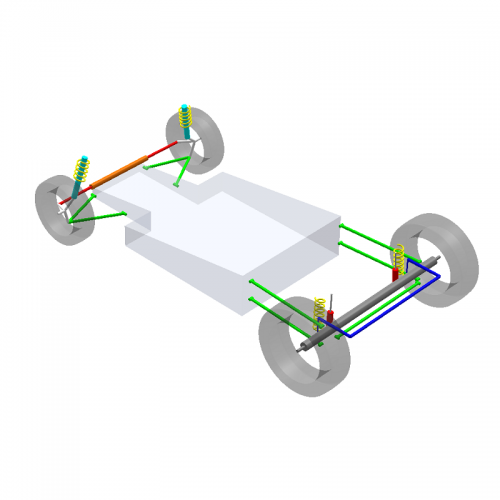 Vehicle Dynamics
Our focus has been on chassis/vehicle dynamics design and development for over 20 years in both passenger car and motorsports. Ahlman Engineering's passion, abilities, experience, and resultant balance provides us great strength over a wide range of vehicle dynamics capabilities from system architecture through chassis design, predictive analysis, and ride and handling development – from start to finish.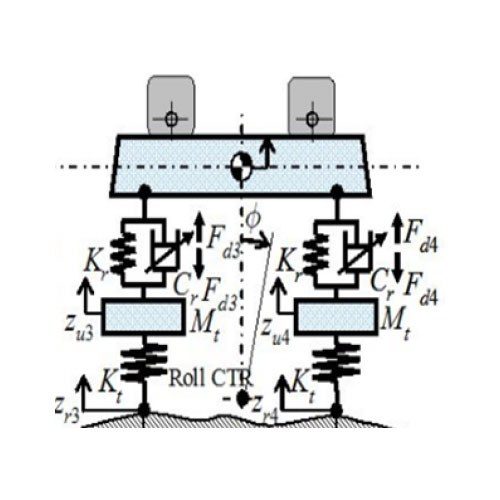 Unmatched "Feel for the numbers"
Our predictive analysis work has included development and application of completely custom full vehicle models to combinations of proprietary and commercial code. We work with the customer to strike the right balance to achieve their short-term and long-term goals within their constraints.
Continual development and application of predictive tools and methods along with our natural engineering balance has resulted in an unmatched feel for the numbers. Application of simulations to predict the behavior of a car rocketing around the track or driving down a bumpy road is a blend of art and science. We have the balance to achieve success!
Our Vehicle Dynamic predicitive capability tools experience Include:
Dynamic by Ahlman Engineering

High fidelity ride and handling physics models and events
Kinematics and compliance models with member force output
Custom events and physics models
Vehicle performance metrics and Design of Experiments (DOE) integration

CarSim and SuspensionSim
AVL VSM Vehicle Dynamics Simulation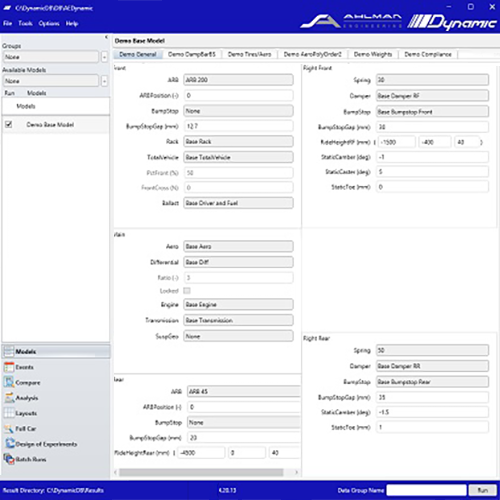 Software Development
Our experience includes developing desktop and cloud solutions, from the ground-up or integrating with existing customer software. We have the ability to lead requirements development, software architecture, and concept selection for vehicle dynamics and simulation products. Custom user interfaces, analysis templates, and databases drive the tools our customers and vehicle dynamics engineers use.
Our software development is a means to achieving results – whether that's at the desk or at the track. Our extensive knowledge of vehicle dynamics helps us understand how the tools will be applied and create software solutions that are intuitive to both a race engineer or a CAE specialist.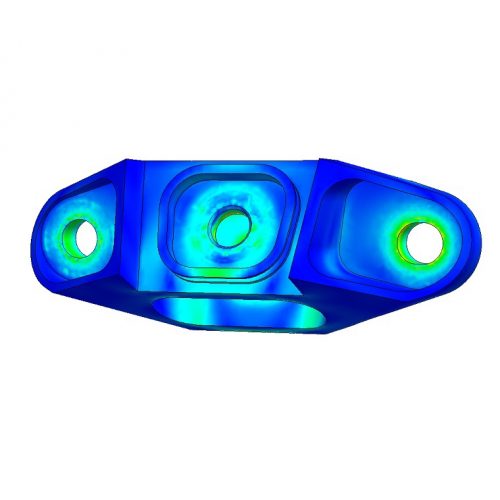 Product Development
Predictive Capabilities
Our predictive capabilities include solid 3D CAD modeling, finite element analysis (FEA), and design of experiments (DOE). We are system engineers and understand the system requirements throughout the design cycle.
Get it right the first time
System architecture has the greatest leverage early in the development cycle, so we work up front to get design decisions correct the first time. In addition to our product development engineering services, Ahlman Performance focuses on the production of motorsports, chassis and full-car products.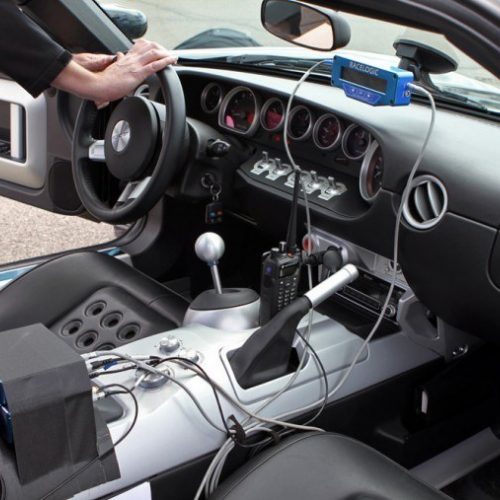 Testing & Trackside Support
We have the ability and experience to lead test design, development and execution that utilizes our vehicle dynamics experience and predictive capabilities. Our vehicle dynamics focus helps us create, execute, and analyze tests which validate improvement of vehicle performance, components, and simulation models. Our experience includes race engineering, data analysis, and trackside support in motorsports.