Completely engineered and made in the USA.
Need new rings for your Girodisc 2pc rotors? We got them. Rings come complete with all new hardware and full instructions for re-assembly. Price is for a pair of rings and 2 hardware kits. Additional hardware kits are available separately upon request. These rotor rings will only work with Girodisc center hats!
Price: $

800
Additional Details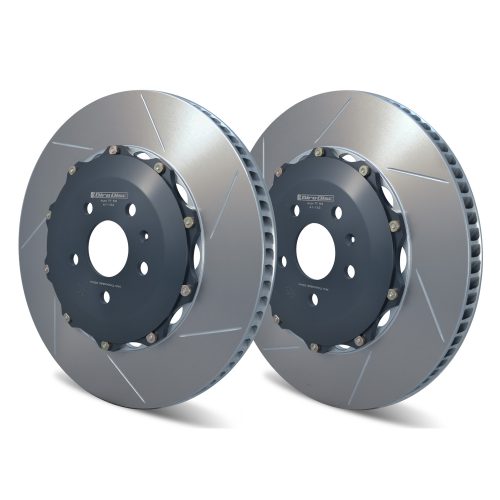 Expertise
Girodisc designs and manufactures some of the highest quality brake components on the market, specializing in direct replacement two-piece brake rotors since 2003. No modifications are required. Girodisc products are all engineered and machined in their facility in Bellingham, WA from strictly US sourced materials. Girodisc takes quality seriously and that starts with using only the best raw materials.
The primary purpose of a Girodisc rotor is to improve performance and durability through increasing the ventilation and cooling capacity (curved vane design) of the brake disc. Second, further performance improvement is achieved through the reduction of unsprung and overall vehicle weight (while maintaining durability). This weight reduction is accomplished by Girodisc's two-piece disc and hat construction. Thirdly, Girodisc rotors are a full floating design giving the driver better pedal feel and modulation where this system's design also provides an OEM level of refinement (lack of noise and vibration). These design features give Girodisc customers' more confidence and leads to lower lap times. In addition, any type of design aesthetic is possible with regard to hat geometry, color and rotor slot pattern.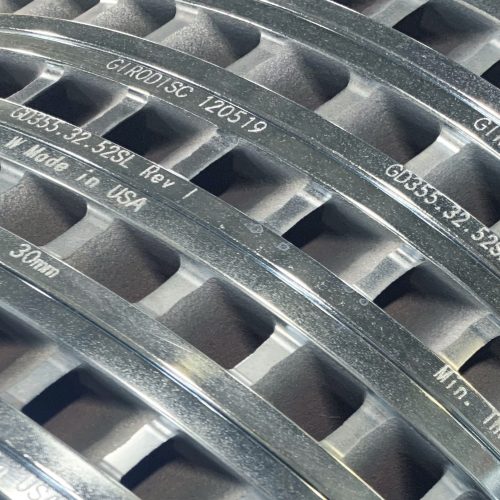 Custom Design for Every Application
Direct replacement designs of Girodisc mean that they will bolt into your OEM car without modification. Girodisc designs their braking packages to work as system, specific to each car they supply. Girodisc brake disc design element considerations include: rotor diameter, cheek thickness, air gap width, number of cooling vanes, drum offset and package to fit your specific car. If your car has been modified heavily affecting weight and/or wheel end package then Ahlman Performance and Ahlman Engineering work with Girodisc to create a custom package that fits your needs.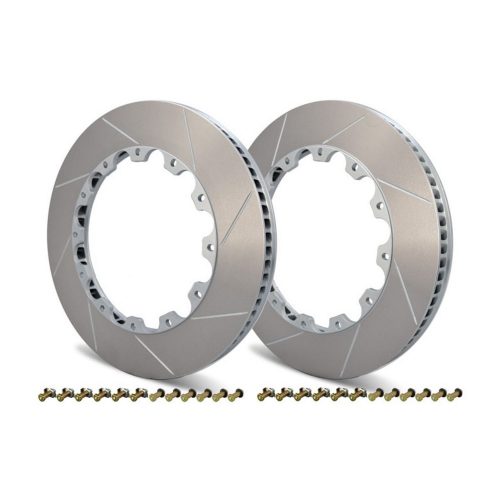 Two-Piece Design
The floating disc design allows the rotor to self-center during braking to improve pedal feel and modulation for greater stopping capability. For most applications, the 6061-T6 aluminum hat reduces unsprung/rotating mass by 4-8 pounds, per corner, over the stock OEM complete cast iron rotors being replaced. The Girodisc two-piece floating design also allows the user to replace the Girodisc cast iron rotor "ring" only at approximately 1/3 less cost than the overall Girodisc system price.
The rotor and hat have a floating mount system, which utilizes high strength alloy steel drive pins, manufactured by Girodisc to their own specifications and cadmium plated for a long lasting corrosion resistance. These pins take the load from braking actions while maintaining the axial and radial float between the hat and disc. The pins are secured by grade 12 cap screws with hardened washers. In order to keep the rotors from making noise when cold, the pins are mounted with anti-noise spring clips on the rotor side which allow the rotor to grow with heat expansion, but eliminate the rattle and noise associated with floating rotors.
Curved Vane Slotted Rotors
Girodisc's internal cooling vanes are designed to create a pumping action for additional cooling beyond the incredible surface area created by the vanes. The slotted discs create significantly more pad surface area (braking torque) for the cooling level compared to drilled rotors, for example, and run opposite to cooling vanes for strength. The slots don't cause the stress risers and durability issues that drilled rotors exhibit. The slots also self-clean the pad surface of any debris and prevent the formation of water film on the disc during wet weather.
---
Related Products