Öhlins TTX Pro Suspension System (two-way adjustable damping and ride height) utilize the same dampers and technology our sister company, Ahlman Engineering, has used in IndyCar for over twenty years. Öhlins tuned this TTX Pro System specifically for world-class track events in the stock Porsche Cayman GT4 (981 & 718) to allow you to be even more connected and confident in this incredible car. The Öhlins TTX Pro Suspension for the Cayman GT4 is biased toward the track (fairly smooth surfaces), but it can also be driven on the road with safe performance and reliability. Stay tuned for our Ahlman Performance Stage II setup for the Porsche Cayman GT4 (OTTX APS2 POGT4) developed for those owners whose usage is biased toward the road with some track time.
Highlighted Features
Öhlins Racing TTX Technology
Advanced Trackday Suspension - Safe Speed Through:


Greater Confidence and Connection
Improved Steering - More Direct and Linear
Improved Balance Consistency
Improved Grip and Handling

Adjustability

Independent Compression and Rebound Damping
Ride Height - Lowered 20 mm
Öhlins settings for road and track adjustments

Clean Package - No Remote Reservoirs
Warranty - 2 Year Unlimited Mile
Rebuildable
Ahlman Performance Unmatched Technical Support
Availability: 0
Price: $

8990
Details
Product No:

POU MR10

Chassis Code:

Cayman GT4

Model Years:

2016-2017, 2020-2021
Resources
Additional Details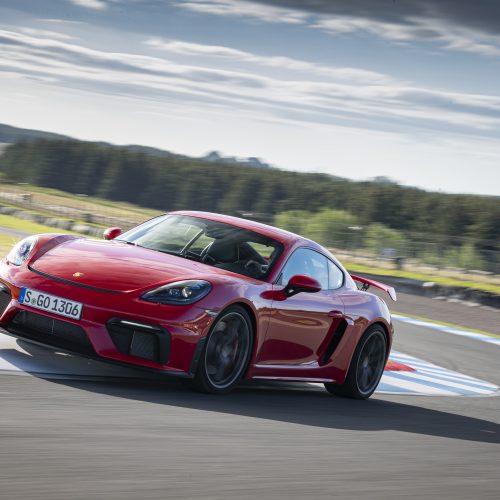 Öhlins TTX Pro - Advanced Trackday - Porsche Cayman GT4
Being more connected to your Porsche Cayman GT4 with this Öhlins TTX Pro Advanced Trackday Suspension means your GT4 telegraphs its every move to you better than ever. You are now one with your car, the steering now follows your hands better than ever as it is direct and linear with a perfect weight and feel. You will also have more confidence because this Öhlins TTX Pro Suspension, developed specific to the GT4 for performance, gives you more grip through the entire corner, especially through the bumps. Every bump is more "rounded" with this incredible feel of control as your tires and the GT4 stay firmly planted to the track.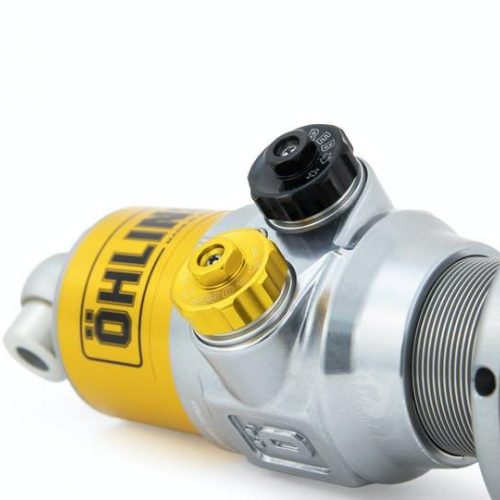 Adjustability in a Clean Package
Highly developed damper adjuster settings for the road or track are supplied with all of Öhlins TTX Suspension Systems we sell. These Öhlins TTX dampers include a two-way adjusters that provide independent low speed compression and low speed rebound adjustment for steering and handling changes, if desired. Ahlman Performance's 25 year chassis design and development background enables us to help you make any fine tuning adjustments for your needs. (In 7 years our customers have been extremely happy with our suspension settings as delivered.)
The Öhlins TTX adjusters work extremely well in a design that one click of over 20 can be easily felt because of the Öhlins TTX solid piston design where all of the damper's flow goes through each adjuster. And the total damper force adjustment range is unmatched in the industry due to Öhlins inherent design. Four-way adjusters (added high speed compression and rebound to adjust for the bumps and curbs) are available on request.
Ahlman Performance and Öhlins TTX Suspension systems are developed to run at a ride height for the best balance of performance, stance and usability on the road or the track. Further, the integral reservoir design of this Öhlins TTX Suspension provides one clean package. There are no remote reservoirs to place and secure like many competitors.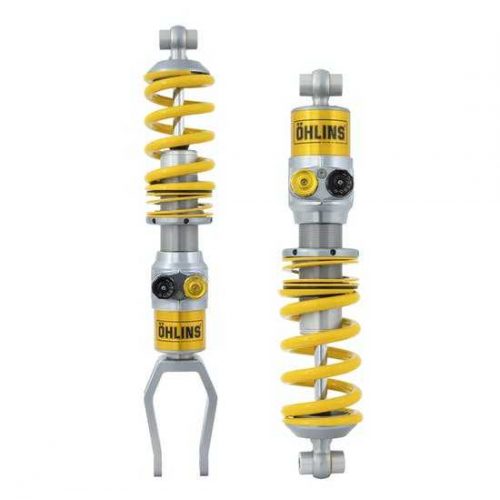 Warranty and Durability
Öhlins TTX dampers for these systems come with a two year, unlimited mile warranty against manufacturer defects. Of note, Ahlman Performance has never had an Öhlins TTX damper (well over 200 dampers) require a repair/rebuild since we started selling them in 2014. And this includes having Ford GT Öhlins TTX dampers with over 50,000 miles checked on a shock dyno to ensure they met the original specifications.
Öhlins TTX dampers are extremely durable because of Öhlins attention to durable performance and their origins with motorcycles that have a similar duty cycle to many exotic cars. In turn, Öhlins has designed very specific elements for a harsh environment along with incredible performance. For example, Öhlin's TTX damper shaft seal is of a low friction design and material yet the Öhlins "dry" seal does not lose any fluid over many years. Competitors selling "racing" type dampers often use a "wet" seal to achieve the same level of friction where the competitors dampers lose a little fluid with every stroke. The competitors wet seal in racing is OK due to the constant rebuild environment from week to week. The penalty for this wet seal approach in road cars is the need for rebuilds every year.
The Öhlins TTX dampers are fully and easily re-buildable if and when this is needed many years down the road.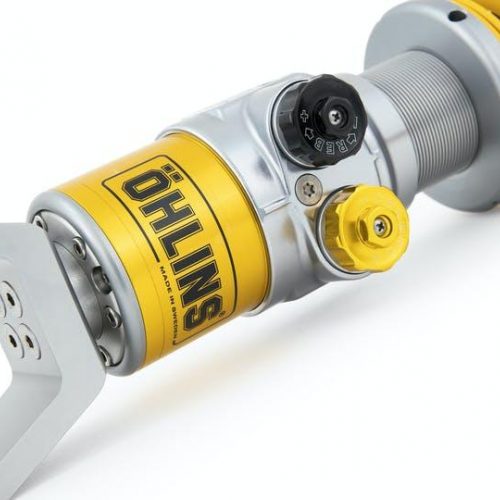 Aesthetics and Craftsmanship - DYNAMIC ART™
The Öhlins TTX Coilovers are works of art, which marry unrivaled form and function. Ahlman Performance calls this Dynamic Art™, an amazing blend of art and engineering, which is part of the larger system that makes up your incredible exotic car. The craftsmanship of this suspension, mainly of aircraft grade aluminum, has a look and feel that every piece has been hand made with unmatched attention to detail. However, the entire package is precision made for incredible consistency of form and function.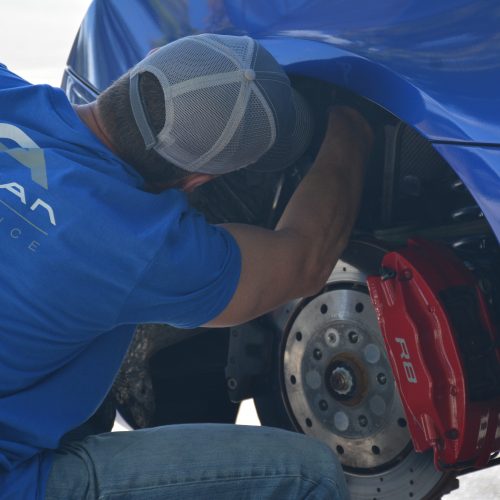 Ahlman Performance Technical Support
Scott Ahlman has been a Chassis / Vehicle Dynamics Engineer for over 25 years including chassis design and development on the '05-'06 Ford GT. In addition, Ahlman was a leading vehicle dynamics engineer in ChampCar with Team Rahal, NASCAR Sprint Cup with Roush Fenway Racing and in IndyCar for Honda Racing and its top teams. Ahlman's roles with these teams contributed to over 40 wins including being in an "Offensive Coordinator" role with Roush Fenway Racing.
Ahlman has been working with Öhlins and their TTX dampers since 1996. Ahlman Performance works with its sister company, Ahlman Engineering and their predictive computer models created in top level racing, for development of any of the Ahlman Performance chassis related systems. Further, Scott Ahlman's ride and handling development background married to this unmatched predictive capability provides a world-class experience level to provide our customers with the technical support you deserve. Ahlman Performance can provide any range of technical support for our products and beyond.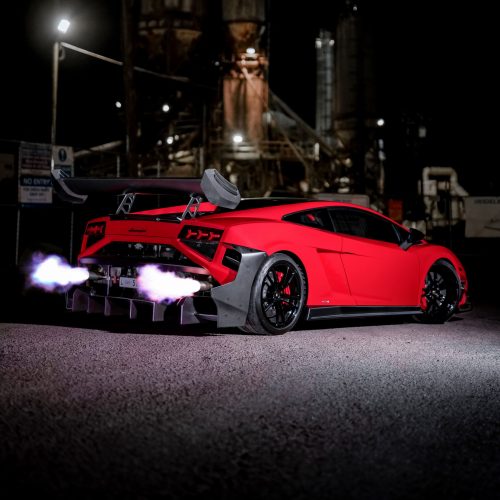 Custom Suspension Development
If you have modified your Exotic a lot, especially changes affecting the weight of your car, then we work with our sister company, Ahlman Engineering, to engineer specific spring and damping changes to get the most out of your exotic car. Ahlman Performance prepared and installed a custom Öhlins TTX Ahlman Performance Stage III suspension build for this Lamborghini Super Trofeo owned by Stig's Persian Cousin (SPC). See our Media page for SPC's Youtube video detailing this custom system.
---
Related Products